A transformative development that will create energy-efficient affordable housing alongside a new Trolley station in Mission Valley is the only San Diego County project awarded funding this year from a leading-edge State of California program designed to fight climate change.
The highly competitive Affordable Housing and Sustainable Communities (AHSC) program has granted $41.1 million to Phase 1 of Riverwalk San Diego, a $3 billion, 200-acre master-planned village that will eventually contain 4,300 multifamily units – 430 of which will be affordable homes, 110 acres of parkland, 1 million square feet of office, and 150,000 square feet of retail on land that is currently used as a golf course.Phase 1 includes 188 affordable homes, a centrally located MTS Green Line Trolley stop, and new bicycle and pedestrian infrastructure along the existing San Diego River trail. The project is the result of a partnership between the privately-owned real estate development firm Hines and local nonprofit Wakeland Housing and Development Corporation.
"Thi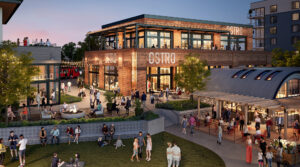 s funding will truly transform lives by creating climate friendly affordable homes with easy access to jobs, schools and transit," said Wakeland Housing and Development Corporation President and CEO Rebecca Louie. "This is Wakeland's third AHSC award so we have seen firsthand how powerful the combination of affordable housing with sustainable transit can be. We are thankful to the California Strategic Growth Council, California Department of Housing and Community Development, and California Air Resources Board for recognizing this innovative and community serving project."
Wakeland is a leading developer of affordable housing in California that has created more than 7,900 affordable homes throughout the state, leveraging $400 million in Low Income Housing Tax Credits. Since 2017, Wakeland has secured over $80 million from the AHSC program, which supports community-centered projects throughout California that encourage walking, bicycling and use of public transportation in order to reduce greenhouse gas emissions.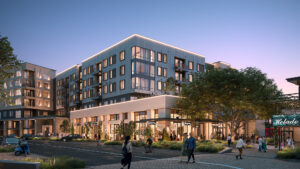 "We collaborated with the community from day one to create the Riverwalk San Diego vision: a mixed use, transit-oriented, attainable village," said Hines' Managing Director Eric Hepfer. "This grant will allow us to provide more affordable housing than what would be required in the first phase of construction and deliver it at the same time as the Trolley stop to fulfill the vision we promised the community from day one."
The $41.1 million granted to Riverwalk San Diego is the single-highest award AHSC has given to a San Diego-area project. Since the program started in 2014, it has awarded $3 billion in loans and grants toward the construction of more than 17,000 affordable homes and thousands of transportation improvement projects that have reduced greenhouse gas emissions by 5 million tons – the equivalent of taking 11 million gas-powered cars off California roads.
"On behalf of the California Strategic Growth Council, we are thrilled to award Wakeland Housing's Riverwalk Phase I project thr
ough the Affordable Housing and Sustainable Communities program," said Lynn von Koch-Liebert, Executive Director of the Strategic Growth Council. "This project will create 188 units of high-quality affordable housing, prioritizes pedestrian-first transportation options, and cultivates energy-efficient places where residents can strengthen the social fabric of the community. We are looking forward to how this project will promote climate resilience and equity in San Diego."
"Celebrating this significant award for the San Diego region is a testament to our commitment to equitable, affordable housing and sustainable communities. The Riverwalk project embodies our city's dedication to addressing both housing and climate challenges head-on," said SGC Council Member Nicole Capretz, Public Member Senate Appointee. "When completed, Riverwalk will stand as a beacon of hope—a sustainable transit-pedestrian-oriented haven, and a vibrant community space, all in one. It reflects the culmination of our city's efforts in creating affordable housing, promoting sustainable transportation, and fostering a sense of togetherness through shared spaces. We're not just building homes; we're building a brighter, greener, and more inclusive future for all."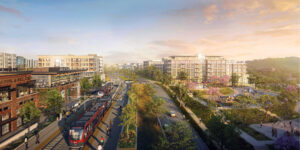 "We are thrilled to collaborate with our agency partners to award these Affordable Housing and Sustainable Communities program funds, growing access to affordable housing while supporting California's key goals of advancing equity and addressing climate risk," said California Department of Housing and Community Development (HCD) Director Gustavo Velasquez. "Riverwalk Phase 1 is just the start of a planned community that will offer high technology paired with energy efficiency. Residents will be connected to their community through shared spaces and activities; to employment and educational opportunity through enhanced transit access; and to nature through parks and walking paths."
Construction is expected to start on Phase 1 of Riverwalk San Diego in early 2025.
ABOUT WAKELAND HOUSING AND DEVELOPMENT CORPORATION
Wakeland Housing and Development Corporation is a leader in the creation and operation of affordable housing in California, delivering high-quality residential developments that address the needs of the communities we serve. Since we started in 1998, we have created and preserved more than 7,900 affordable homes at 57 properties throughout the state, each of which showcases our commitment to building and operating high-quality housing communities with superior onsite programs and services for residents. Visit our website to learn more: www.wakelandhdc.com.
ABOUT HINES
Hines is a global real estate investment, development and property manager. The firm was founded by Gerald D. Hines in 1957 and now operates in 30 countries. We manage nearly $96B* in high-performing assets across residential, logistics, retail, office, and mixed-use strategies. Our local teams serve 685 properties totaling nearly 216 million square feet globally. We are committed to a net zero carbon target by 2040 without buying offsets. To learn more about Hines, visit www.hines.com and follow @Hines on social media.
*Includes both the global Hines organization and RIA AUM as of December 31, 2022.